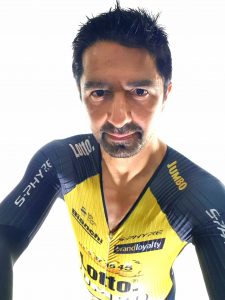 Hi Alex, thanks for answering some questions.
What is your background, how did you get interested in cycling and fitness?
This will surprise you but I am a medical doctor. I  love to apply science to everyday problems. Its called an evidence based approach. We should do that in cycling rather than accepting what is generally believed (cycling myths!)
Is this your first interview?
Not the first, I have done one for Zwiftcast but it is the first for Russian speaking triathletes!
I have been your patron at Patreon.com from the very beginning and really value the content you are producing.
Thank you for supporting me! Actually, FastFitnessTips is not really a money making business, I really do it because I love the whole area of fitness and health and also cycling technology of course. Patreon is simply a way of having a membership, just like our club on Stava or Facebook.
You are doing great research, sharing useful links, bargains and interesting videos. In my mind, your channel is a kind of substitute for professional magazines for cyclists/athletes.
Yes, this is the era of user generated content rather than the old structure of traditional publishers and TV channels. Much of the information and reviews I hear about is from youtube these days where I follow over 300 channels. If you are stuck with any cycling problem eg mechanical or training you will usually find an answer online.
Being on youtube yourself, what youtube content providers do you recommend?
I like popular science channels, TED talks and of course cycling vloggers like Jasper Verkuijl, Mark Ferguson and Vegan Cyclist. Its great to see behind the scences of pro athletes like Lionel Sanders and Alex Dowsett who have their own channels. I will give a shout out to two up and coming channels as I like to support the little guys Cycling Lounge and China Cycling.
How did you start your YouTube channel/company?
I already owned a photographic studio and had all the equipment through my other job as a doctor and had created over 500 videos on medical topics. I just thought I would give some advice on health and fitness and cycling as that was my passion and I was already giving advice and coaching on those topics.
Do you work alone or do you have a production/research team?
Haha! I wish I had a big team like GCN but it's really just me. Sometimes friends and family might help or I might outsource something but in terms of researching a topic: you have to do that yourself. What I do miss is other presenters with different styles and having more time to do reviews. A lot of companies get in touch but its hard to keep this totally honest if they are providing the product.
What is your athletic experience?
It is very basic by your high standards Mikhail! For the last ten years I played football five times a week and then did cycling or running on weekends. I bought a powertap wheel used for $500 in 2012 and was amazed to see how much valuable data this generated. But at that time it was stored locally rather than on the cloud and I lost a lot of data a few times. That is why strava was a game changer and its also got the huge benefit of being social so it is a motivating factor. A number of apps work with strava such as veloviewer or windsock. Unfortunately, I sustained a serious knee injury and had to give up football. Also my cycling and running has been massively affected so I am doing rehab at the moment.
What is your history of cycling, what bikes did you own?
Let's see. I had a retro bike called Parker Thompson Elite with classic british steel tubing "Reynolds 531" in the 80s. I had an aluminum Planet X fixie bike in the 2000s that was stolen. I have a titanium frame bike by the British brand Enigma which I built up myself, I loved the way titanium absorbed the road buzz. I have the Boardman TT carbon timetrial bike but the brakes are terrible and also I have the Boardman  climbing bike: SLR9.4 which was only 6kg out of the box and I got for $3000 brand new. Last year I tried out my first disc brake bike: the Giant Adv Pro but its stack height was too high so I sold it and bought the Focus Izalco Max Disc which is really an amazing bike weighing in at only 6.5kg and is easily the best bike I have owned. Focus have just announced their aero version of this bike for 2019 and it may feature on a new video of top 10 bikes of the year.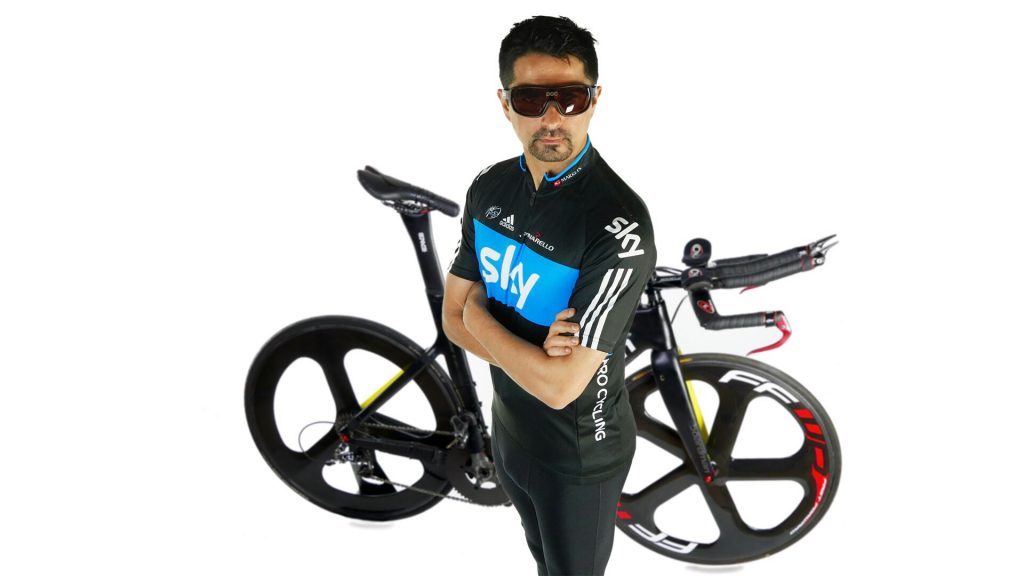 Do you work with individual athletes or professional teams? ?
I work with a hand full of paid athletes but a lot of people write to me for advice usually via social media. I am wondering whether to do some Q&A sessions on youtube soon. Watch this space!
Your channel is known for making some excellent calculators, tell us about these
I guess it is the ultimate test of science. It's one thing to claim you understand the topic, its another to actually make a calculator that proves it! For example on the FTP test, it is surely obvious that the 95% rule cannot be correct for a lot of cyclists because many beginners literally cannot cycle non-stop for 60mns. Further linear rules are very rare in biology. However there is so much dogma in cycling and fitness that people will attack you if you dare to speak up. But that is what youtube and social media is all about: giving people a voice. After I made the myth busting video on the FTP test I got so much hate mail from but I also got five times as much positive feedback from people who said we have been saying that a long time! Andrew Coggan himself wrote a comment, but then he deleted it! There is a nice blog on this topic here.
Is there anything fundamentally special about the FTP test over 60mins?
> Only that no one wants to do a full test over 60mins and there is actually no official 60 minutes protocol. Basically the FTP test is just a way of finding one point on your power curve (power-time) and putting it on an agreed scale that most cyclists will understand. However, any idea that it ties up exactly with energy systems / lactate threshold / aerobic effect is pretty much nonsense. Energy systems do not follow the clock they are highly personalized. In fact, I recently made a calculator on energy systems that will work out your power in watts for any event (from 1min to 9999mins) based on one power  test (which doesn't have to be 20min to 60mins) and it will tell you your energy use in fat and glycogen (here is the app version: https://goo.gl/7sDerP)
How many videos or Spreadsheets do you have in your library? Spreadsheets?  What are your most popular?
Very roughly
10 calculators as Apps on the phone (https://www.cyclingapps.net/appmarket)
50 public spreadsheets
100 video on youtube
200 research topics for future videos
The most popular is probably the tyre pressure calculator; but altogether I am estimating around 20,000 downloads/uses of our calculators.
How long does it take to produce a video and do the background research?
Much longer than you think! I will collect data or look up the research over a week and then write a short summary. The video itself will take at least a day if its a big topic and I will put up a draft on patreon (early view). This also helps me get more comments and iron out any bugs.
You busted some very popular myths - FTP 20 min, OSPV - what other myths are there in cycling do you think?
Haha there are so many! Here are a couple:
"you need a significant taper before your event to perform best"  The science says your really don't need to taper hardly at all otherwise within 3 days your are starting to get deconditioned (only slightly but its the opposite of what you want). I heard an interview with Fabian Cancellera about his amazing timetrial wins. He said he goes best in the TT when he rides fairly hard (but within his capability) the day before!
Another one is that "you need a big warm up before an event". You really don't need to warm up more than a few minutes. You may like to, but that`s different. Physiologically a long warm up will actually start to hurt your performance because to put it simply you will be burning matches before your actual event.
What is your business-model? I can only imagine how much time/effort you invest into production. How do you return your investments? Currently you have 88 patrons and your channel on YouTube has about 21k subscribers.
This is really simple. I don't run FastFitnessTips as a business. We just don't have enough followers to pay anyone full time! However it does raise enough to pay for some of my time or to review some products which keep any review totally independent with no product placement.
You should always ask a reviewer, are you being paid to say this? This is why you don't get so many reviews saying what is not very good.
How can athletes support you?
It depends what they want. Maybe the question should be how can I support them? We can do race analysis (eg TCX, FIT files), position/bike analysis, nutritional and equipment advice, pacing advice. In fact, we have a pacing calculator so you can see exactly what to do. If they want to support the channel, sign up to patreon. If they have a specific training question or questions about aero or cycling tech let me know. I am usually happy to help on info@fastfitness.tips
Tell us what you see as the future of cycling in terms of bike tech. What do you see coming in the next 10 years?
 12 speed electronic gear obviously, aero fairings for road bikes, full disc wheels which convert into climbing wheels, active suspension for road bikes, non-puncture tyres for road, aeropod built into the frame of new TT bikes, cranks with adjustability in the length, different bike road tyres for different conditions (eg wet, dry), anti skid clothing, heated handlebars and smaller and smaller motors in bikes (ebikes), and yes lots ebikes. Lots and lots of ebikes!!
What are you working on in the future and are you working with any companies or partners?
I am working on some really exciting areas. I have created a calculator that will work out the optimal gearing on your bike from basic rider stats eg cadence and speed. I am also working with CyclingApps.net. They are converting a lot of our spreadsheets to apps for iPhone and Android. I am really impressed by what they have done so far. One joint project is called the virtual wind tunnel. Using some clever calculations it will tell you your CDA or your power without having to go into an expensive tunnel. Hopefully these will be out next year.